Tobago freediving and SCUBA trip
so… where to start on this epic destination.

Tobago is a small island of 26 miles long, and 7 miles wide, but it offers so much. It has a warm tropical marine climate, varying from 25 degrees Celsius to 32 degrees Celsius throughout the year, meaning the water temperature is always at least a nice swimming pool temperature. Its 54 000 residents rely heavily on the service sector to tick over its economy, 60-70% of the locals are employed by the local Government, and when you take into account the decent sized private sector there is very little unemployment, and this means there is very little poverty, so you have an island perfect for travellers to enjoy a relaxed, well run, peaceful inviting island.
Tobagonians are a beautiful people, they are relaxed, warm and hospitable. They are friendly and have a good sense of humour. The island is hassle free and fun. It has a vibrant culture, unique cuisine and breath-taking beauty. It has uncrowded beaches, there are only 2,500 rooms on Tobago for those lucky enough to get them. It has all year round weather; Tobago is one of the most Southerly of the Caribbean islands, level with the Northern tip of South America. This means it lies South of the hurricane belt which gives it a major advantage when choosing off season holidays in the Caribbean.
It is a must for the adventurous traveller, with Kayaking, glass bottomed boats, kite boarding, wind surfing, snorkelling, Scuba diving and swimming in secluded waterfalls on offer. Golfing, mountain biking and sailing are also available. It is a nirvana for naturalists and has 300 species of coral, turtles, nurse sharks and Manta rays.  The main ridge forest has been voted the worlds leading eco tourism destination in the past by the world travel awards.
It is the oldest protected rainforest in the world. It is a bird watchers paradise and has 210 species of birds. Giant Leatherback turtles nest and hatch on the beaches at Stone Haven Bay.  It is a smorgasbord of culinary wonders, it is an island that needs to be smelt, touched, seen, tasted and heard to understand what an amazing place it is. It is all about culture and heritage and it has an amazing legacy to protect. It is also an ideal destination for romantic trips, honeymoons and weddings.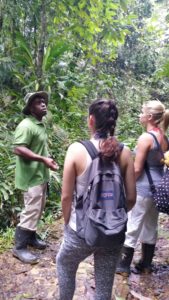 It is an island of many festivals, something happening every month. There are unique activities too, goat and crab racing at Buccoo race track for example. Pigeon Point is worth a visit. It is said to be the islands most beautiful beach, although many of the beaches are amazing! You shouldn't miss the  steel pan Entertainment on offer there and visit its iconic thatched roof jetty where many weddings have been filmed.  Fort King George is another place worth visiting. This was one of the last colonial forts to be built on Tobago, it offers an amazing viewpoint over the island. The light house built there is still in commission
The diving is varied, but all good. I would describe this as a perfect destination to travel to if diving wasn't your main focus as there is so much to do on the island, the diving is similar to the reef diving and reef drift diving in the unspoilt parts of the Red Sea. Tobagos dive sites are unrivalled anywhere in the Caribbean
The best diving is from 10 metres deep, to maybe around 30 metres deep, it is for the recreational diver rather than the technical diver. You can dive at various sites to see more than 300 species of coral, turtles, nurse sharks and Manta rays. Especially at Speyside which is the islands diving Mecca. It meets the Caribbean on one side, and the Atlantic on the other, it has some boisterous water movement which makes for some fun drift diving at certain times of the day, at certain dive sites. It is nutrient dense because of the Guyana current it feeds healthy untouched reefs and coral. I will do a full dive review, but for now I've put together a short video including some off season diving footage.
Some useful information for you from some of the recommended operators we used:
Diving: (contact)
Eco and tourism:
Restaurants:
Hotels: