MERMAID COURSES
At Apneists UK we have a great history of training mermaids, and we believe we have found the perfect way to do it. There are different aspects to mermaiding, some of it recreational swimming pools for parties, there are the aquarium shows, open water photo shoots for fun and commercials, and each different facet requires different levels of training. We have set up a branch of our main group and aptly named it 'Performance Mermaids' It describes the obvious fact that many of our mermaids have performed at shows and aquariums, but also the quality many of them have demonstrated in Mono fin competitions which we can describe later.
Nowadays pretty much all the pools, aquariums and open water sites require some proof of ability when using the Mono fin. This shows a good safe mentality as in the wrong hands it can be dangerous to use as it isn't like regular swimming. We have also tied in the mermaid course to offer Internationally recognised freediving qualifications at each step, as well as the club recognised Performance Mermaid qualifications. The beginner mermaid course will allow you to access shallow club training and meets/trips. The intermediate level allows you to access our deep pool sessions and most of our outdoor trips and the full qualification is the benchmark for aquarium work in the UK.
There are several steps to get to various levels of training, and there is more than one way of achieving the highest level. I've added a couple of flow charts to show you a couple of options. They all start with the important baseline information of a recognised Freediving pool qualification. I've used the AIDA system to describe the process, but we do run, and accept some other agencies.
Step one
The most important start for any in water breath hold activity is safety and technique so we start from the beginning with the AIDA 2 pool Freediver course as the bench mark. The AIDA 2 covers an understanding of physiology and use of Freediving equipment. It teaches safety, how to dive safely with a buddy, and how to look after other freedivers and what to do in an emergency. You will develop breath hold skills, one of the biggest perceived problems most people have on entry to a Freediving course is they can't hold their breath, but that is what we teach you!
You will learn how to weight yourself to be neutrally buoyant and do distance swims underwater. The course is around 4 hours theory, and 4 hours pool time, on successful completion you will become an AIDA 2 pool freediver
Step two can either take you towards depth freediving to learn equalisation and head that direction ready for the deeper courses, or you can stay shallow and learn to use the mono fin and mermaid equipment in pools. So now starts the optional directions.
Step two (example 1)
Deep pool training: The next step can be to add some depth to the equation for the aquariums and deep pools we use. Equalisation of the air spaces, additional safety information and rescues from depth are included in this course. We can do one deep pool, or open water session to complete the Freediving skills required for this, aiming to get you to around 6 metres deep (most aquariums in the UK are around 3 – 3.5m deep we have dived in). You will then be qualified as an AIDA 1 Freediver.
AIDA 1 Freediver
Price £50
Note: The red boxes are the qualifications achieved not separate courses.
Step two (example 2)
Beginner mermaid (mono fin use): Next step could be the use of the Mono fin as a tool and get used to the tail. We start by doing some theory and videos to explain what it is you need to do to use it safely and efficiently, then we very quickly get into the pool and practice using it. We give you drills to practice, work on technique and develop your Mono fin style. We can let you then use the mermaid outfit and fins and practice your newfound skills. We can start to look at basic moves and postures and how to get ready for photo shoots. This is the Mono fin for mermaid's taster session. You will then be at performance mermaid beginner level and be able to join us on regular shallow pool meets and join the fun.
Mono fin for mermaid's taster session – Beginner performance mermaid.
Price £125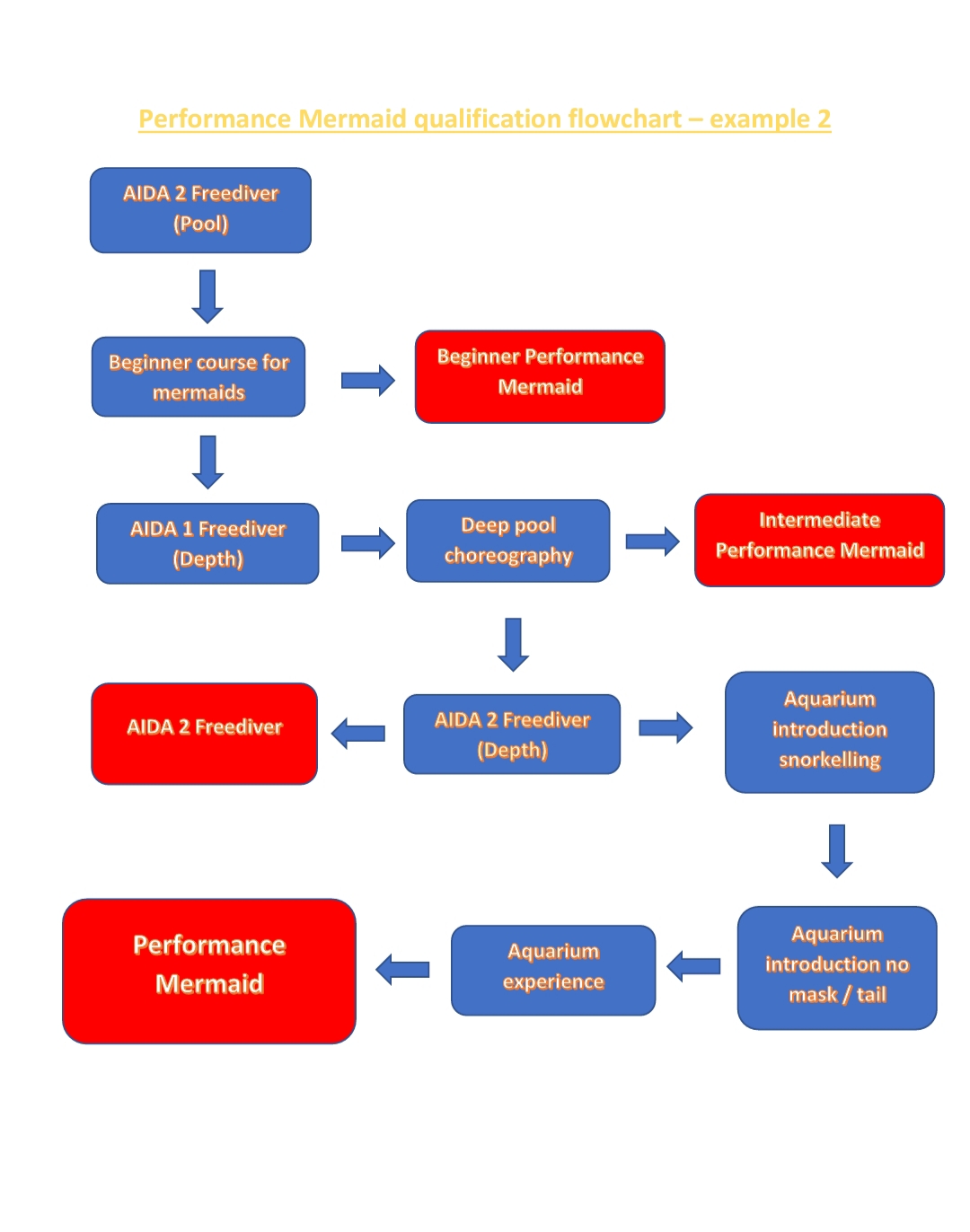 Note: The red boxes are the qualifications achieved not separate courses.
Next potential step
Deep pool choreography option: We then do a second mermaid pool session covering mermaid skills, choreography, movement underwater and develop a higher level of skill and comfort than the beginner course. This is the Intermediate Performance mermaid qualification, you must have done the AIDA 1 depth course before this part to ensure you understand depth physiology and can clear your ears.
Intermediate mermaid course
Price is £50
Next step
AIDA 2 depth completion in open water down to a depth of around 16 metres, this course is designed to be an introduction to freediving for the complete beginner or improvers. It aims to help the student to develop basic skills, knowledge and safety procedures necessary to enjoy freediving safely within the limits of their experience. This course is not aimed towards competitive freediving but for recreational freediving only. It will take the diver down to between 14 metres and 20 metres depending on the time of year and the student's needs.
You are eligible to join the AIDA 2 Open Water section after having done the AIDA 2 pool and theory. The Open water section of the course is run over two days in Open Water. If you do not pass the course I always offer at least one additional days training, at no extra cost before we start charging extra, or offer the AIDA 1 Freediver qualification to get you onto the ladder.
AIDA 2 Open water
Price £170
(If you have done the AIDA 1 as a separate course this is reduced in price to £120)
Into the aquarium
The final step once the student has done the full AIDA 2 course and the Intermediate level Performance Mermaid course is to go to the aquarium. We ask all of the mermaids we use for the official paid shows we do to be this level, and believe it is a bench mark standard to aspire to and has been recognised by those who we have worked with to be exceptional. Companies like Sea life, and the Blue Planet. Charity events for the St Abbs lifeboat station and MacMillan, and shows at places like the Great Northern Dive Show at event city Manchester.
We get into the aquarium and do acclimatisation sessions in mask, fins and snorkel  to understand the environment, cover some safety information such as the risks associated with each aquarium environment and then move onto practice sessions in full mermaid attire. We get the performer several practice sessions and if all of this is successful, move onto becoming a full Performance Mermaid performer and doing the live shows at the many centres we perform for. We do not charge those who have come through our system for this part of the training. If a candidate approaches us without having done training with us we would do an initial assessment before considering how to proceed and at what level.
Hope to see you at a meet soon
DAY 1: POOL & THEORY
We start with classroom theory and onto the swimming pool where we cover Statics (STA), Dynamic Apnea (DYN), safety and rescues.
Certification:
AIDA 2 Star – Pool Freediver.
Allows you to dive with the club in the pool environment.
Duration:
1 Day
Day 1:
Knowledge development (classroom theory), Static Apnea and Dynamic Apnea (pool).
Equipment:
Swimming kit and comfortable clothes. All freediving equipment used during the course will be provided.
Requirements:
Be 18 years or older, have completed the medical statement and be able to swim at least 100 metres non-stop and 300 metres with mask, snorkel and fins.
Price: £125
DAY 2: BEGINNER MERMAID MONO-FIN TASTER SESSION
The Beginner Mermaid Mono-Fin Freediver Clinic is designed to be an introduction to Mono-fin swimming and  tail use and to help the student develop the basic skills, techniques and knowledge necessary to start using the Mono fin efficiently and tail efficiently.
Students will be introduced to different approaches to freediving with a Mono-fin and tail, exercises designed to work on style and how to design a training program. Advanced techniques will be covered far beyond any current course syllabus. We will use video analysis to help improve stroke. Students do not have to own a mono-fin before the clinic to benefit.
All instructors/guest speakers are previous UK squad members and/or UK record holders.
Certification:
Club recognised beginner mermaid in house qualification
Duration:
1 Day
Equipment:
All freediving equipment used during the course will be provided and included in the price.
Pool fees:
Included
Requirements:
Be 18 years or older, have completed the medical statement and be able to swim at least 100 metres non-stop and 300 metres with mask, snorkel and fins.
Price: £125
1/4: PICK A COURSE DATE
Find the next available Mermaid Course from the google calendar below.
If you cannot find any dates for the above course, please contact steve@freedivers.co.uk or call +44 (0) 7940 998915 and we will accommodate you the best we can.
NOTE: Make sure you have the correct course location as there may be a few.
2/4: PAY NOW
Reserve your spot on the course by making the corresponding payment on the next page.
3/4: DOWNLOAD FORMS
When you purchase the course you will receive your Medical & Liability forms, please bring them filled in and signed on the day. NOTE: If you have answered 'yes' in any of the questions then you will need a doctor's signature to verify it is safe for you to take part in freediving.
4/4: ALL DONE
Congratulations – you're all done. We will send you an email in the next day or two with further course information including some exercises to start off with.
Are there any hidden costs?
rt_johnson
2020-07-07T11:50:29+01:00
Course fees include pool fees and equipment. For AIDA courses the certification costs are due at the end of the course you wish to be signed off for, normally 20 Euros per certification. The PADI courses include the first certification when you purchase the Freediver Touch. Open water fees are not included, some sites are free, some charge and that is payable locally.