The Farne Islands is along the Northumberland coast. This North East coast of England is stunningly beautiful. White sandy beaches, a castle or ten, a large bird population for twitchers and underwater it is beautiful too. Orange and white soft corals, forests of kelp swaying in the tide, a number of wrecks that have fish life taking residence in them. The biggest draw though is a colony of around 6,000 Grey seals.
I have been going on and off for nearly 30 years, and organised many trips there. Why is it the view of UK diving that it is cold, bad visibility and uncomfortable?
I think the people who believe that just haven't given it a chance yet. I genuinely believe that with the correct equipment it is warm enough to dive comfortably all year around, but certainly 8 months a year, and yes in some areas the visibility will be bad, but I've seen gin clear waters in many places around the UK. A bit of weather watching, and local knowledge can really improve your chances of a good show. It's about a small amount of planning, and a bit of good advice from experienced divers on the conditions to judge what you need for comfort and enjoyment.
The beach town at Sea Houses is very accommodating for the traveller. Many friendly pubs, chip shops, gift shops and Bed and Breakfast and other tourist accommodation to satisfy both ends of the financial spectrum. The people are friendly, and it sets the scene for an enjoyable trip.
We dive with Billy Shiels, he has looked after us for many years. Himself, his skippers and crew are knowledgeable of the conditions in the area, which is essential as tides can run fast and inclement weather plays its part as you are travelling offshore a short journey to the islands.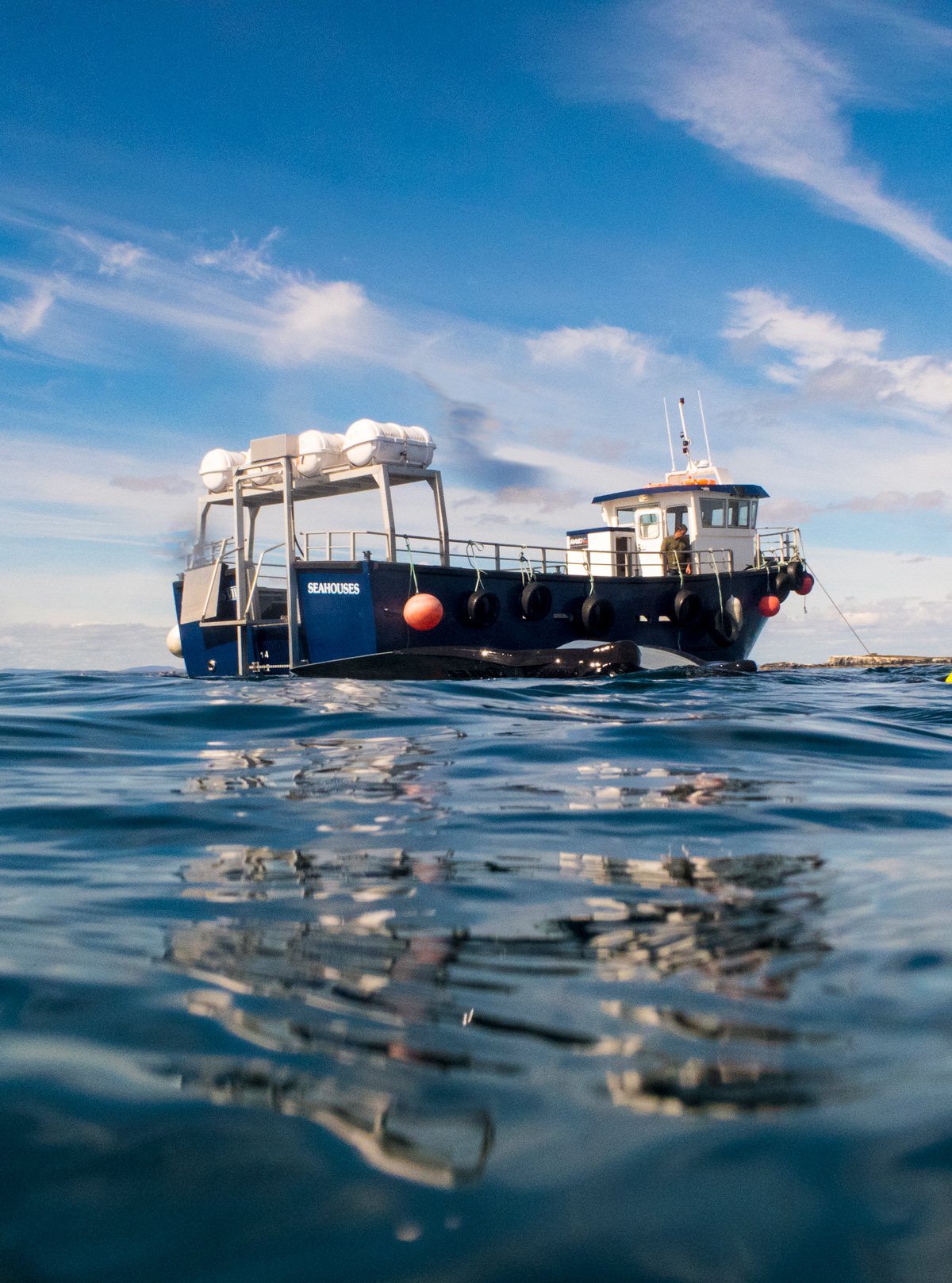 After a short walk from the harbour to the boat, the boat journey out is all part of the fun, surface dwellers pay for the privilege of steaming to the islands to view the wildlife from the surface, certainly this is a great experience, but it is less than half of the story.
You can expect a sight of basking seals, and in the water being surrounded by inquisitive seals dive bombing you, touching you, or just viewing on the edge of visibility. The one amazing thing about this encounter, unlike a Sea World type encounter, is the creatures are in their natural habitat and may come and go as they please. It seems though that Freedivers and Scuba divers are fun so they don't mind visiting us.
Water temperature is decent, I never feel overly warm, never felt overly cold. Just right. We wear 5-7 mm wetsuits with hood and gloves. September and October are the warmest months for diving, February and March are the coldest. Having the right equipment is the difference in comfort, not the conditions themselves.
We normally spend 3-4 hours in the water over two sessions and get back on the boat and steam home. With fantastic tales and a video and picture or two to show the surface dwellers
The dates for our trips in 2022 are:
25th and 26th June
&
20th and 21st August
Boat is £50 per person, per day. Equipment hire available.
Please contact me on steve@freedivers.co.uk to book