Apneists UK were at the Bristol Blue Freediving competition and went on to inspire us with some great results
Last weekend saw the 6th Bristol Blue Freediving Competition and the 2nd as a team format. Teams of 3 freedivers made their way to Henbury Leisure Centre in Bristol to take part in Static, Dynamic No Fins, BiFins and Monofin disciplines with the winners being the team with the highest combined score for all 3 athletes.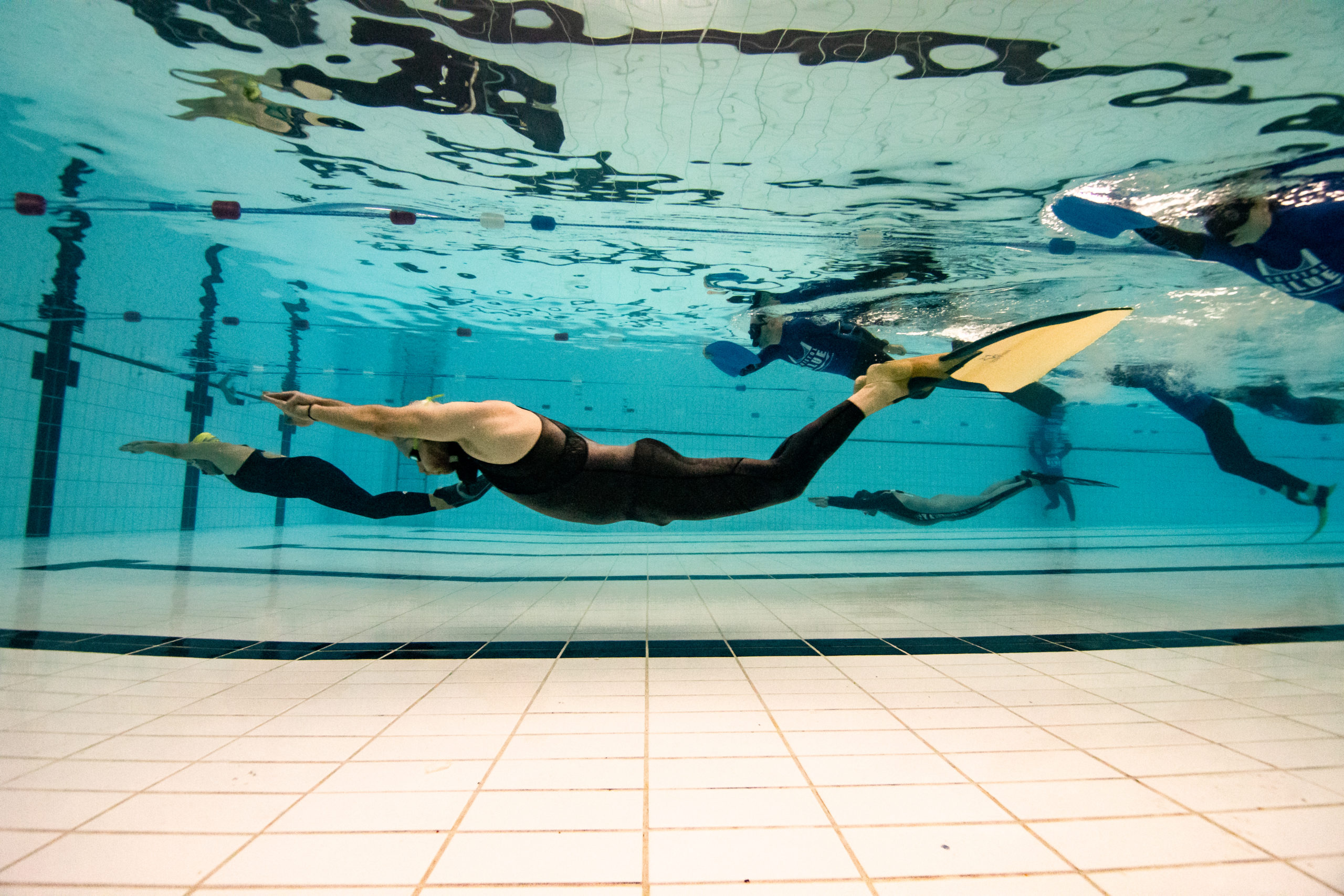 12 teams and 36 athletes took part, 10 of whom were newbies to the competition scene. There were some fantastic performances, – 69 official starts, 17 personal bests and 1 new DNF National Record for a Brazilian athlete
The competition was very close at the halfway point. With each athlete having completed their first performance there was just 9 points separating the top 5 teams, equivalent to 15 secs per athlete in STA or 6m in dynamic disciplines. The final results were just as close with 7 points separating the top 3 teams!
The best newbie award was even closer with the top 2 males being separated by just a single point, and the top 2 females separated by 0.6pts!!!!!
Congratulations to the winning team Shark Fin Troup who included our very own Jake Costello with three great white card performances. Bart Lubecki and Bill Seaford also had 6 white cards between them, a lovely 147m DYN for Bart, and Bill had a comfortable 5.17 min STA and a nice 125 metre swim which you can watch here:
Bill Seaford swimming 125 metres DNF
Interestingly the top three teams were the only three with full white card count, all of the other teams either had illness or Red Card events showing how important white card mentality can be in these competitions.
And huge well done to the Best Newbies: Charlie Bradford & Danica Maynerd.
The event was sponsored by MARES – just add water ( www.mares.com ) and @britishfreediving who generously gave some fantastic prizes for the winning teams and athletes.
Well done to all who took part and all who helped make it happen behind and in front of and behind the scenes! We are so grateful to our community of freedivers, your efforts and enthusiasm all help keep this wonderful sport growing.
Pictures credit: Neil Wood
Steve Millard