The Salvimar one Freediving computer:
Is a multi-functional apnea computer aimed at Freediving and Spearfishing groups. It has all the normal functions you would expect of a watch like time, date, stopwatch, countdown timer, dual time and alarms and has the extra features for breath hold diving such as depth gauge, surface time, dive time and logs.
You need to physically switch the computer into dive mode to use it, but once you have done that it works well once you pass 1.2 metres depth, with a function to record dives for the log for reference after the dives. It automatically records surface interval time which any Freediver and Spearfisher knows is critical information for resting long enough between dives or recording a partner's dive time to get ready for safety for example. Easily visible display, important characters are between 4-8mm.
Although only basic functions are catered for in this design, the most used basic functions are included making it a useable piece of diving equipment. Battery change is possible by the user but would potentially invalidate warranty.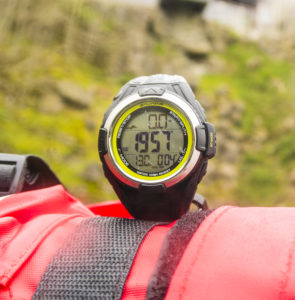 Freediving computer functions
In the time function hours, minutes and seconds display, and day of the week for those using it as a watch when not diving. Also, the year and month. Pressing the button on the bottom right activates the green backlight.
Most interestingly to Freedivers is the dive mode. On the screen in the centre it shows the Surface time, on the bottom left, in the first screen, the maximum depth appears, and in the bottom right the time of the last dive.
You can scroll through different information in dive mode. The above will change from water temperature and dive time to water temperature and number of dives. Then finally to maximum depth and actual time. There is also a stopwatch mode, so you always have that valuable tool to hand for when you feel like a static breath hold or accurately record a dive time for whatever reason you need.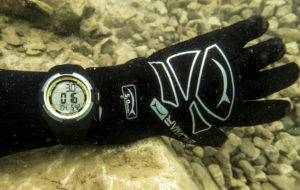 During the dive there will always be the number of dives in the centre, the actual depth at the top, current water temperature bottom left and time bottom right. The temperature sensor allows a quite quick change in temperature, so it is useable to collect information at depths.
The computer works for either metric or imperial measurements, a useful tool to appeal to a global audience. There are sound alarms for max depth and max dive time.
Limitations of this Freediving computer
The only downsides are limited functionality, no multiple depth alarms for example, no graphical representation of dives. Wrist strap is a struggle over 7mm suit and 5mm gloves and no extension strap available.
Key features:
Full watch
Depth Gauge
Surface time
Diving time
Dual timer
Pacer
Stop watch
Water temperature
Light
Storage of diving data
Alarm for maximum diving depth
100m waterproof
Weighs only 60 grams
Easily replaceable battery
Alarm for maximum dive time
Wrist circumference 25cm (no current extension strap)
Instruction manual and details can be found here:
https://www.salvimar.com/downloads/SALVIMAR%20ONE%20instructions%20english.pdf
So in summary.
This is a very affordable computer, with all of the functions of a wearable watch, and all of the basic Freediving functions for recreational Spearfishing and recreational Freediving. It looks good and its sturdy design means it is likely to last many seasons wear. The only real downsides are the wrist strap size, and lack of a few extra alarms to help the deeper divers out.
Price (in USD/GBP/EUR) & availability
Price recently searched are coming in at (229 – 236 USD , 115 – 175 GBP , 129 – 199 EUR)   Available in the UK from http://nautilusdiving.co.uk/index.php
Performance: 5/5
Features: 4/5
Graphics/Interface: 4/5
Value for money: 5/5
Summary:
An excellent recreational and entry level computer for freedivers and spearos. Limited functionality, but reflected in a very affordable price.