Salvimar Fluyd pure swim 2.5mm Review.
This suit was designed for sea swimming, snorkelling, triathlon, swimming pool use and Freediving disciplines. This is another really good quality product from Salvimar. The company is always careful to make sure that their products are tested by elite athletes in their respective sports, athletes like Davide Carrera for example and the results show this in the thought which has gone into design.
Features
Aesthetically pleasing as well as functional this is certainly a quality product. The stretch nylon lined inside gives great strength to the suit to avoid complete tears, but still maintains comfort and elasticity.
The outer smooth skin material is a medium density neoprene and is incredibly warm, but despite being 2.5mm is still elastic enough to allow easy breathing and movement in the water for swimming and Freediving disciplines such as Static, and dynamic with or without fins.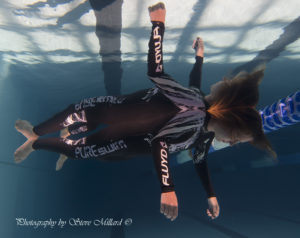 The forearms, neck and calves are HP super coated, comfortable to wear and so far, I have had no scratches or rubs from the suit. The underarms are made from an extra stretchy layer aiding the ability to lift the arms for swimming without resistance.
As you would expect design thought has gone into both male and female sizing's and design, it is available in the four main sizes for each gender. Extra small, Small, medium and large.
The zipper of course is high quality, a YKK superior zip, with a salt resistant plastic slider. perfect hold, while minimizing sliding friction. This neoprene suit is strongly suggested for all aquatic sports in warm water and when you need to be free to move
It has an 'HT weld system' at the joints for thermal optimization, it is a really smooth finish for good hydrodynamics and after several months of use no sign of the welds giving way which is a good sign for a long lasting suit.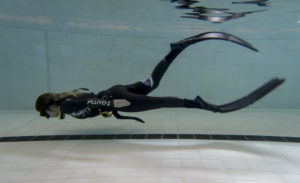 Word of warning
One word of warning for all suits of this type, they rip easily with any pull on the outer material with nails, even small nails. The suit comes with a small set of gloves for protection, USE THEM otherwise you will get small nail holes which deteriorate the suit. Beginners beware! Be careful, it is a common problem with these performance suits.
Cost of freediving wetsuit
Prices at the time of releasing this article are anywhere between £165 and £229.
In summary this is a quality wetsuit suitable for freediving, snorkelling and swimming in warm water or swimming pools. It is durable and flexible, and I would describe it at the performance end of the scale. Pricey, but worth the price tag.
Comfort 5/5
Performance 5/5
Price 4/5