Freediving Ibiza trip
As Freediving continues to grow from strength to strength the perceptions of what the sport is about are changing too. The recreational side of the sport is about relaxation, destressing, enjoyment, water confidence and a real wind down from the daily grind. It is about whatever level of fitness you are, improving yourself and getting out there and burning calories, stretching your comfort zones a little and enjoying the water. The benefits are huge. It is about getting away from the maddening crowds and finding secluded areas to enjoy the water with likeminded people.
The press still picks up on Extreme Freediving, in the form of competitions and really deep diving, and the occasional and unfortunate incidents that happen. The male and female world record sled dives haven't been moved for over a decade, but memories live long in people's minds about this type of diving. One area of Freediving that appears from the outside to be dangerous that is demonstrated to be safe is deep freediving, including competitions. The top end athletes are doing staggering depths, mind boggling to those outside the sport, but incidents are few and far between, and competitive diving is a safe sport. I remember dive shows years ago when Freedivers and Freediving were snubbed, told we were 'mad' and continually told it is something I couldn't do as it is too scarey but nowadays I believe the community has warmed to us and the can really see the benefits of Freediving. The extreme side isn't for everyone and the recreational side is easily accessible and easy to learn too with a qualified Instructor and school. Recreational diving takes several forms, but in its essence, it is simply diving breath hold in a similar way to snorkellers, I would say just in a more controlled and skilful way. I would also add that as you improve you are getting closer to your limits, so never dive alone, and always take a course before starting.
My article is about a recreational trip to the island of Ibiza that I organised for four of my Apneists UK club members, I have been there several time before so had a very good idea what to expect. Ibiza is situated in the Balearic archipelago. This is the third island in terms of size after Mallorca and Menorca. Ibiza has a surface area of 541 22 km² with 210 km of coastline. Ibiza alongside Formentera forms the Pitiüses Islands (pine islands). The highest point of the island is Atalaiassa (475 metres) and around the main island there are a total of 48 islands. The official Catalan name is Eivissa. The population of the island is in excess of 100 000 inhabitants although this varies throughout the year.
Ibiza is a wonderful island, arguably most well-known for its hedonistic nightlife. It has emerald water, and an always blue sky (more than 300 days of sunshine per year). It has over 50 wonderful beaches to discover, and a few hidden ones off the beaten track.
This year's Apneists UK freediving club trip saw us staying just outside San Antonio bay, far enough outside to avoid the party crowd. We did lots of activities during the week including line diving, cave diving, recreational freediving, spearfishing and trekking. The five of us had our own villa which was a great space for stretching, relaxing, having a barbeque for the fish we caught and general socialisation. Much better than having a sterile feeling hotel room.
The first dives during the week saw us line diving. This is exactly what it says on the tin. It is diving straight down, straight up on a rope. A buoy on the surface for support and safety, a plate at the bottom set to the depth the diver wishes to do, and those diving the line wear a lanyard to keep them with the line, so they don't lose it, and can be pulled up if needed. We meet each other on deep dives at maybe a third to half of the maximum depth and safety each other on the way up. Most of the group were diving between twenty metres and thirty metres deep, one had dived deeper previously but was on the trip getting warmed up for future diving trips away.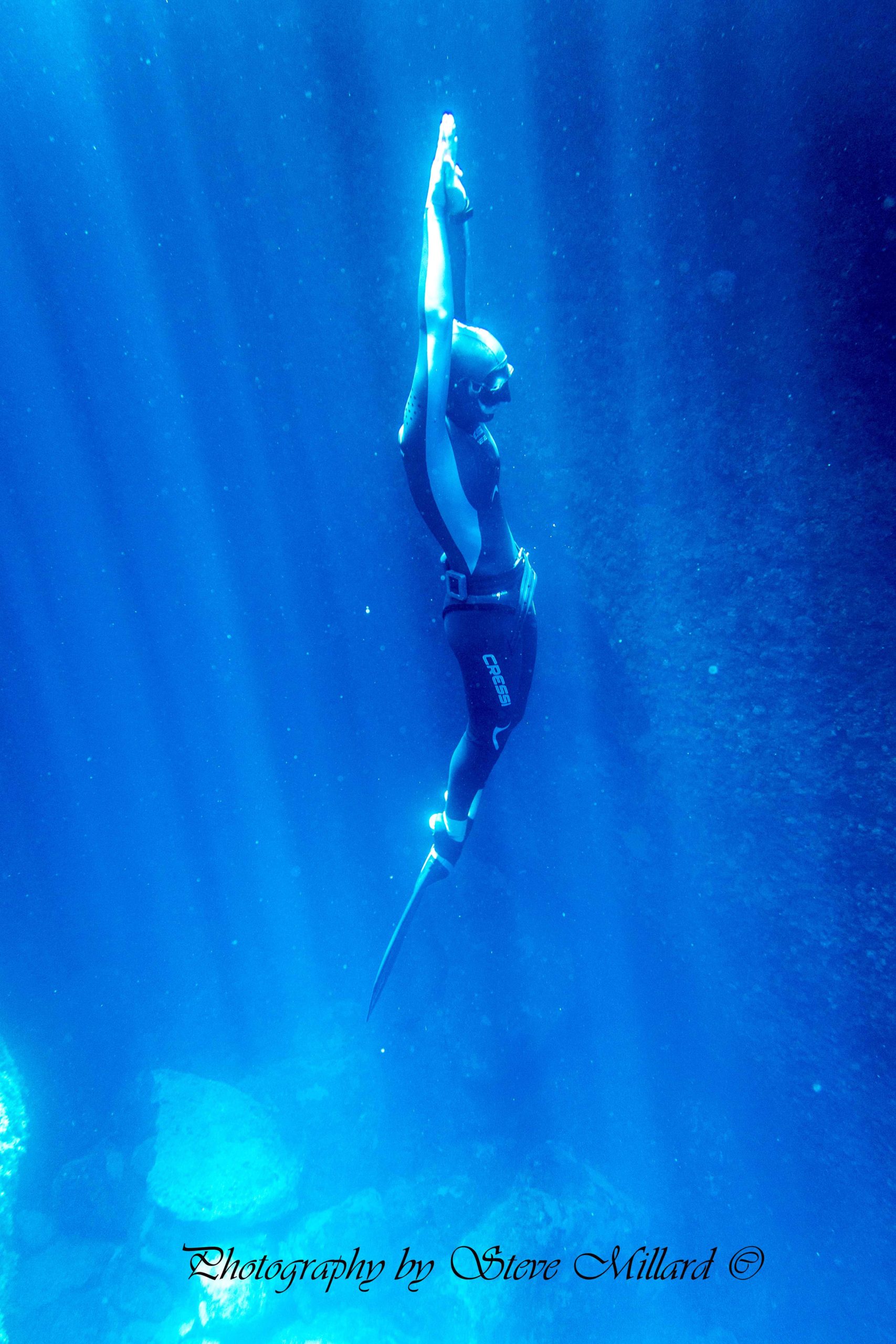 Line diving is about trying to dive perfectly to any given depth, with good preparation of mind and body, getting relaxed, having an overall strategy to achieve a depth in terms of rest, technique, diet, mental preparation, equalisation, breath up, and having confidence you can do the dive due to only increasing successful dives by small incremental increases in depth or consolidating whilst practising specific skills. Many times, improvements are only by one metre or two from previous personal bests when water conditions are good, and the athlete is physically and mentally in good place.
Even though diving deep isn't some peoples cup of tea, I find it relaxing as you spend the time properly preparing, and really knowing you can do the depth as all conditions have been set to be successful. It gives a powerful feeling of confidence and with that you can relax completely. Some of my most relaxing dives have been my deepest, and it also gives a good sense of achievement when improving.
One of the club members on the freediving trip, Erdi, said:
'Recreational diving is why I love the water, exploring the environment and myself in a fun relaxed way. Line diving is why I love freediving, overcoming fear and pushing myself physically and mentally. I have noticed when my line diving improves, and I achieve deeper depths/better technique my recreational diving benefits, I am more relaxed, more efficient and more in tune with my body with less resistance in my mind.
'It's not often you come across people in your life who are willing to invest their time and energy into your development and boost your confidence with their presence alone. Thanks for hosting an epic trip Steve!'
We consulted charts and found a few good spots and considered the weather forecast and found a bay where we could reach our required depth with a short leisurely swim out in a stunning bay with high cliff sides. The area was full of nude and topless sunbathers. But we were focused so didn't notice such things and continued down. Conditions were great, very little water movement and fifteen to twenty metres of visibility.
On one of our days we revisited the Cave of light, this is situated in a small area of coast line between San Antonio and Port De San Miguel. Surrounded by cliff tops the Caves of Light can be accessed via a 'chimney' into the water, or from outside the cave from the sea with a short underwater swim at a depth of around 6 metres deep. The word 'cave' conjures up images of dark and gloomy dangerous places in some people's minds, but this is a cavern full of streams of bright blue light, you are on the surface and able to breath fresh air fed regularly from the openings from outside, it is an amphitheatre of sounds and light rays, a beautiful inspiring place. You must work out the right time of day to dive it as the light is fed through a hole in the roof which only starts to fill the dive site at certain times when the sun is in the correct position. You can watch a tiny beam of light the size of a hand start coming through, which grows and grows into a room full of rays over a couple of hours. Easy diving once in there as it is only maybe 14 metres deep to the floor, plenty of video and photo opportunities. If you ever go though, remember to put everything down for a while and just savour the moment. We finished our day there outside the cave doing some recreational diving and some spearing and collected enough fish for our evening meal to cook on the barbeque at the villa that night.
On our rest day we decided to take a tour with 'Walking Ibiza' and Simon Reid, a good friend of mine from the island, and excellent Freediver too who joins us for many of our dives. Ibiza is a truly stunning island, lush and green, hidden away beaches, and there are many walks taking in the flora and fauna that make me want to keep coming back just for that. The history of the island is complicated but interesting, and Simon has stories about all aspects of the island so is a nice companion to add to the beauty of the walks. One amazing walk was at the top of the Ibiza mountain, the cloud cover was level with the top, so we had the clouds travelling through the trees making for a very eerie feel. It reminded me of a scene out of a horror movie or intense drama.
In the final days I wanted to visit Es Vedra which is an island which protrudes majestically from the sea at nearly 400 metres high, this uninhabited rock island made of limestone is situated 2km off the west coast of Ibiza and is right opposite to Cala d'Hort. I have dived the island previously, and that was amazing, but I wanted to just have some chill out time and get some pictures of it at night from the cliff sides. The island feels magical and transmits a palpable feeling of peace and harmony. I have felt this only in a few places around the world, and those places keep me coming back to revisit them.
Many myths surround Es Vedra from ancient history, one was that it was the home of the sirens and sea-nymphs who tried to lure Ulysses from his ship in Homer's Odyssey. It is said to be the birth place of the goddess Tanit, whose statue you will see all across Ibiza. It a favourite place for meditation and other spiritual practices. Perhaps one of the best-known myths surrounding Es Vedra is that it is the tip of the sunken civilisation of Atlantis. Whether or not any or all of this is true, one thing is for sure, once you have seen it close up, Es Vedra will leave a long-lasting impression on your imagination. There is an amazing arch dive there under a massive pillar of rock well worth doing and lots of fish life in the area.
As well as the diving there are a few decent attractions, Eivissa (Ibiza Town) is the capital of Ibiza and should be a definite, day trip for anyone visiting the island. Centrally located on the eastern coast of the island. It is possible to easily travel to Formentera from here as ferries and boat taxis are in abundance, I would highly recommend a day cycling around that particular beautiful island. In-between the old and new town is the stunning La Marina area and Vara del Ray. There is plenty to see and do in Eivissa, sightseeing, shop or eat in one of the lovely restaurants.
The Upper Town is the oldest area, with an amazing view of the port facing the sea. The architecture and layout haven't changed since the fortifications were built in the 16th century, and the defensive walls and bastions have incorporated those which existed before.
The town offers a fantastic, energetic walk through history with narrow cobbled streets lined with gift shops and art galleries as you walk up to steep cobbled roads to the cathedral. These treasure troves of the unusual and unique made by the hands of talented local crafts people.
It is worth checking out upcoming events in the town, for example the most famous is the Medieval Festival in May which celebrates the declaration of Ibiza's Old Town as a UNESCO World Heritage Site in 1999. The old town hosts vibrant celebrations including three days of street parties, musical performances, artists and medieval re-enactments. It is a really good atmosphere.
The trip was a success, everyone bringing back Personal bests or improvements in their diving, it had a great chilled out feel, and you only get a sense of the party life when you drive through San Antonio at night, but if that is an aspect you enjoy it is there for you too. Ibiza has a lot to offer outside the perception people have of it, very like Freediving in that way.
I hope to see you at a dive site holding your breath with us one day soon
Steve Millard
@apneistsukschool facebook