What is your name?
Pim Vermeulen 
What centre are you involved with?
IMMERSION freedive academy and shop and organizer of the RedCcup (Dahab, Egypt). 
What is your role within the centre?
Business owner and the main instructor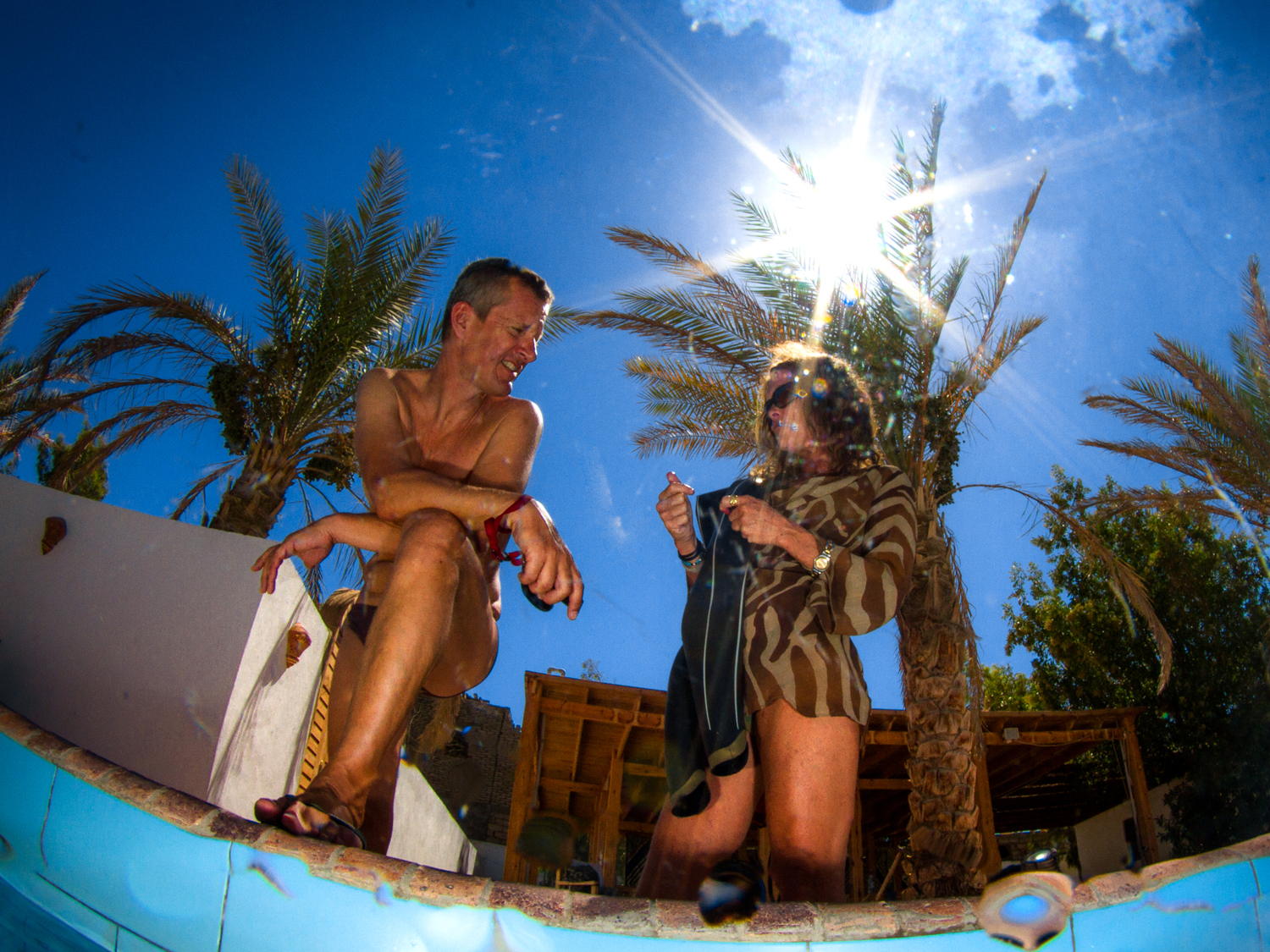 How long has the centre operated for?
Since beginning of 2002, originally based in Netherlands but from 2012 permanently in Dahab Egypt. 
How long have you dived for, and what qualification are you?
Freediving since 1998 and AIDA International Instructor Trainer, AIDA International Judge Instructor, Apnea International Instructor Trainer, NFDB Instructor Trainer, PADI Master Freediver Instructor, PADI Dive master, PADI EFR Instructor, 9-times National Record holder for the Netherlands, etc. (check at end of document for the rest of my credentials)
What is your favourite type of diving?
Freediving of course, although I still scuba dive on my days off. 
If you could tell people one thing about the centre (or maybe more) to make them want to visit you what would it be?
First of all, CUSTOMER CARE and written in capitals with a reason as there I make the biggest difference with other freedive centres. Further more my experience as freedive instructor and coach goes back to the year 2000 and I have a long history in all aspects of freediving from beginner to World Record holders. My freelance instructors are selected with utmost care, as quality is the most important thing at Immersion academy!
Where do you currently promote your centre?
Website, Facebook, YouTube, Instagram, Twitter, etc. but in short notice we start promotion differently also and will come out with merchandising and other related products. All contact possibilities are listed at bottom of document.
What was your favourite dive in this location and why?
Blue Hole, because we have close to perfect conditions / depth all year around and with an only 2 minute swim to get 92-95m of depth what is important for safety.
What types of diving are available in this area?
In Dahab any types of diving possible all year around from freediving (0-350m), scuba diving, tech diving, snorkeling. 
Are you involved with any other centre / locations?
I 'freelance' for several scuba centres if they have freedive customers here in Dahab and Sharm el Sheijk and around the World on invitation, but mainly I work from my own centre.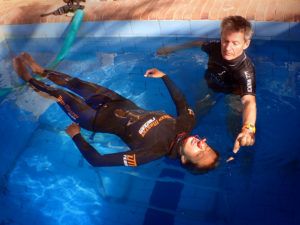 What do you find most rewarding about your current role?
For me as instructor and coach the most rewarding is seeing people change during a course or a coaching program. Of course the biggest changes you will see at beginner courses like AIDA2, Instructor course, Judge courses and in personal coaching programs. 
How would you like help promoting your centre?
More media attention in written media, promo's, dive exhibitions, etc. 
What is your favorite underwater creature?
Since beginning of diving and freediving I love Manatees and sadly so far I never had the luck to go to i.e Crystal River in Florida to snorkel with them. 
Are there any exciting changes / developments coming up in the near future?
Yes, main thing is we will open a brand new HIGH END freedive, sports, health centre soon in the Lighthouse area in Dahab. Also the future expansion plans and engineering already calculated in our soon to be released plans. 
As a centre what is the biggest problem you face at the moment?
Main problem for any of us here in South Sinai is the lack of charter (direct) flights from Sharm to Europe, etc. For many the line-flights by major airlines are too expensive. Also the bad media attention we get doesn't help and Dahab is most likely more safe than Europe at the moment. Once people are here the cost of living is extremely low and for example to rent an luxury apartment will be only 90 Sterling, a diner in Dahab's most famous restaurant will set you back with 7 Sterling. The add a risk Dahab truly possesses is the fact that you most likely will never want to leave again after being here for a few weeks! 
Is your centre involved in any environmental improvement?
At the moment not any more as the environmental project stopped last year. We all are setting up new ones that will be revealed in near future, the scuba and freedive industry and rest of foreign locals stick together to improve the overall environmental awareness under our customers and Egyptian locals. To give an example; last year there was a huge project involving 3 local schools and that was very successful, this year it will be repeated. 
How do you see the SCUBA / Freediving / snorkeling industry overall? What changes would you make?
Main problem in any of the mentioned industries is that people with limited capabilities as Instructor / coach but with amazing marketing skills get a big chunk of the business without delivering quality and work under often unsafe situations, that are seen here almost on daily base! Furthermore the trend in Freediving starts following the Scuba industry and prices drop and in result the quality, safety and customer satisfaction.
We hope getting support from the organizations we represent but some are mainly focused on expansion rather then creating quality and respecting safety standards. As an AIDA Egypt board member I, together with some other foreign Instructors that are involved, try to protect the levels and quality in our industry. 
Additional questions you'd like to be asked …………….
Below find my credentials in Freediving/
CV Freediving :
AIDA instructor since 2001

AIDA master instructor since 2003

AIDA Instructor trainer since 2010

AIDA Judge instructor since 2010

PADI Master Freediver Instructor since 2017

PADI Instructor Trainer (waiting approval) since 2017

NFDB Judge and Instructor Trainer since 2002

APNEA International Instructor Trainer since 2014

AIDA Executive Board member from 2005-2012

Leader of AIDA Technical Commission from 2005-2012

Member of AIDA Education Commission from 2005-2012

Freediving coach since 2001 i.e. for Renate de Bruijn 2x WR-holder and Mandy Sumner Gold medal World Championships 2015

Founder and board member of AIDA Netherlands 2002-2006

Founder and board member of AIDA Egypt 2016-….

IMMERSION Freedive academy and shop owner since 2002

Freediving since 1998

9-time NR holder for Netherlands

Visited 9 WC's as athlete, judge or as co-organizer

Organizer of >50 competitions, National and World Record attempts

Since 2002 introduced >4000 people to freediving through teaching / intros

Certified around 1000 freedivers on all levels, including approximately 100 instructors and 100 judges

Trained by Loic Leferme, Aharon / Maria-Teresa Solomons, Umberto Pelizarri, Andrea Zuccari, Pierre Frolla, etc

PADI dive master since 2002

University degree in mechanical engineering

Senior designer / engineer for 25 years

Chief engineer for Hilton

Speaks Dutch, English, German and basic French
Pim Vermeulen, IMMERSION freedive academy and shop
Mail; pim@immersion.nu
Mobile; +20 (0)100 463 2931
Website; http://apnea-immersion.com
Facebook; https://www.facebook.com/Immersionfreediving/
Instagram; https://www.instagram.com/immersion_dahab/
Twitter; https://twitter.com/freediver105
YouTube; https://www.youtube.com/channel/UCaAVj2gSdeIC46LtUFADjZg
TripAdvisor; https://www.tripadvisor.com/Attraction_Review-g297547-d6366895-Reviews-Immersion_Freedive_Academy_and_Shop-Dahab_South_Sinai_Red_Sea_and_Sinai.html
Google Maps; https://www.google.com/maps/place/IMMERSION/@28.507177,34.513512,14z/data=!4m5!3m4!1s0x0:0x70cb71d209a5880f!8m2!3d28.5092884!4d34.5140702?hl=en-EN