Celtic deep – Freediving trip 23rd / 24th August 2021
Trip Brief: The Celtic Deep. High chance of diving with Blue sharks.
Season: July – October
Wildlife: July to October – Sharks. Blue sharks, Porbeagles, Threshers, Basking sharks. (outside chances of seeing Mako) common Dolphins, Risso dolphin, Porpoise, Sunfish, jellyfish, Gannets, Storm petrel, Arctic tern, Fulmars, Gulls.
August – October – Blue sharks, Whales: Minke, Fin Whales, Long finned pilot whales (outside chances of seeing Humpbacks and Orca) Tuna, we regularly see Bluefin tuna from September onwards.
A trip to the Celtic Deep is a full day trip. Most are 10-12 hrs. Departure times and location (usually Dale but possibly Milford Haven) will vary a little depending on the tides but count on leaving early in the morning 7-7.30 AM and returning in the evening 6.30 – 7.30PM.
The travel time out and back to the Deep is approximately 2-2.5 hours each way.  Once at our location we switch off the engines and become a floating platform. We drift with the current and tide and wait for megafauna like sharks, whales and tuna to turn up. During this time we rotate groups in and out of the water to enjoy the open water swimming experience.
There is plenty to see on our way with whale watching, dolphin action and birds galore. Conditions and timing allowing we take in some of the islands (The Smalls, Grassholm, Skomer & Skokholm) on the way out or on the way back.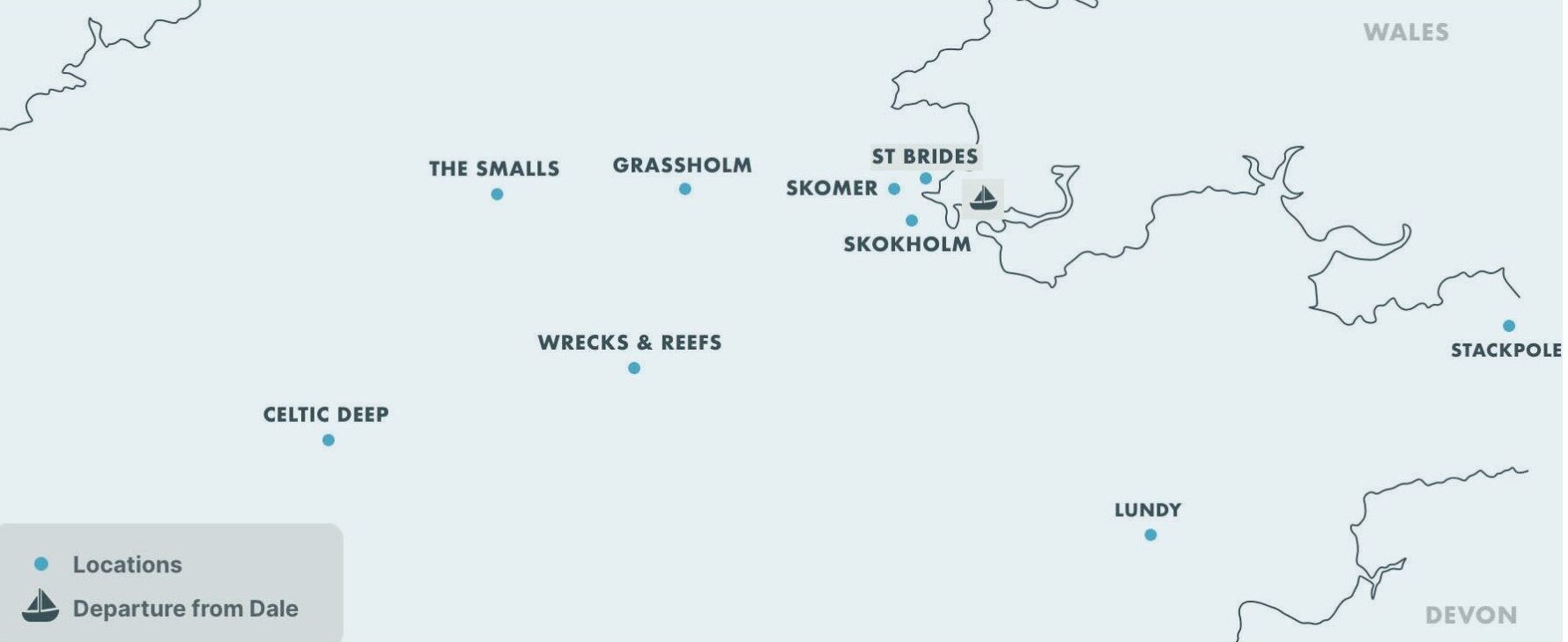 Trip dates Monday 23rd and Tuesday 24th August 2021.
Cost: £165 per person per day for the trip. Accommodation is not included, and we have added some local accommodation at the bottom.
It's so important to be prepared properly for any trip out to sea.
Always plan and pack your equipment in advance and double check before you leave for the trip that you have it all. If you are planning on borrowing or hiring equipment then our advice is to organise it now rather than leaving it until last minute.
For a day out on the Celtic deep this is your kit list.
Hat (for sun protection and warmth)
Sunglasses (polarised are better protection for your eyes and help spotting through the water)
Factor 50 suncream
A wetsuit of minimum thickness 5mm either a 2 piece freediving suit or a one piece suit and a hood.
Black neoprene gloves
Black neoprene socks or boots to wear with fins
Mask (remember to de-silicone the mask if it's new! How to do that here: https://www.sportdiver.com/how-to-clean-new-dive-or-snorkeling-mask )
Snorkel
Fins
A uniform dark colour (black is best!) for suits, masks, fins and snorkels – the sharks are very curious and can be attracted to bright colours, like yellow fins for example.
Weight belt with between 3-5 kgs (this is just to enable you to be neutrally bouyant on the surface so you can keep splashing to a minimum)
If you don't have a weight belt and weights we can provide this. For all other equipment we will expect you to come prepared.
Go Pro and spares, useful to have it on a stick as it helps keep your distance from inquisitive sharks
Between dives and post dive : Keeping warm
Change of clothes
A Warm wind and rain proof coat or dry robe. Shop here
If you don't have a dry robe then a long, warm waterproof coat suitable to wear over your wetsuit is best.
Food and drink:
Bring plenty of water (2 litres minimum is sensible)
Bring a packed lunch and snacks.
We are out for 10 hours on most trips and you burn more energy that you think!
Be prepared for a bit of rock and roll!
We ask all our customers to consider if they will get seasick on this trip. It's common for even the most sturdy of sea legs to get a little bit queasy on the trip so please be prepared and cover yourself before you get to that stage…🥴🤢.
Please take some anti sickness pills before you come on the boat to the recommended dose if you think there's even a slight chance you may get sick. We are a long way from home and can't turn back if you're feeling sick. It's better to be safe than sorry!
We cannot give out tablets to customers so you must provide your own. Past customers have used and recommended Kwells and Stugeron 15. However please do your own research to find what suits you best and consult your doctor in case it will interfere with any other medication you are taking. Warm water and fresh ginger is also good for settling the stomach.
Where to meet
Dale Harbour is our meeting point. Type in SA62 3RB to your google maps to locate it.
£5 in coins is needed for the car park in Dale or £10 if you have a van. The traffic wardens are not to be messed with in summer season in Dale!
Drive your car to the harbour wall to offload your kit before then driving back around the one way system to park at the car park. Link to carpark location here
https://goo.gl/maps/otkBfxzNGCWgaB2r6
Departure time will be confirmed nearer the day.
Most likely meet at dale harbour by 7.30 am for ropes off by 8am.
Please be there on time.
Accommodation options
Dale, Marloes, St Ishmaels are the closest villages to our departure point.
Please try to plan your accommodation as far in advance as possible as it all gets booked up very quickly from April through to October. Particularly for those booked on to a single day trip, it's a good idea to discuss in advance the cancelation policy of the accommodation provider, in the event your trip is called off due to bad weather. Please let them know that you're on a trip with Celtic Deep. It might help us to leverage better rates in future!
Best to call and book direct for the best prices
01646 636205 (Mon-Fri, 9am–5pm)
Enquiries.df@field-studies-council.org
10 check out
2-6 check in times
Camping and Glamping options
Dale Hill Farm campsite
Contact: Michael and Sharon Bryan T: 01646 636359
https://coolcamping.com/campsites/uk/wales/south-wales/pembrokeshire/milford-haven/1058-dale-hill-farm
https://www.facebook.com/DaleHillFarm/
Point Farm
https://www.pointfarmdale.co.uk/
West Hook Campsite, Marloes
http://www.westhookfarm-camping.co.uk/
Foxdales, Marloes
https://www.pitchup.com/campsites/Wales/West-Wales/Pembrokeshire/Haverfordwest/foxdale-campsite/
Lower Mullock Farm, on B4327 1.75 miles E of Marloes, gentle slope, stunning views. 01646 636251
Self catering and B&B Options
DALE:
Allenbrook 01646 636254      www.allenbrook-dale.co.uk
Broadside 01646 636492        www.dalebandb.co.uk
MARLOES:
Limenaraki Cottage ** in peak season July – Sept  this is only available for 7 night bookings checking in and out on a saturday.
https://www.airbnb.co.uk/rooms/18302221?s=67&unique_share_id=c368df77-07bc-444b-9078-70c7eecff8b0
The Old Post Office, in the centre of Marloes 07810 773446 www.theoldpostoffice.info
Marloes Cottage  http://www.welsh-cottages.co.uk
Gwelfor http://www.welsh-cottages.co.uk
14 Greenmeadow Close  07999 299605
Orlandon  01646 636366  Look on www.coastalcottages.co.uk for Orlandon Farm Cottage, Kelwon Cottage, Hooper's Cottage, Smithies Cottage
The Cow Shed, Philbeach 01646 636269    www.trehillfarm.co.uk/holidays
Philbeach Farmhouse  01646 636269        www.trehillfarm.co.uk/holidays
Windmill Park (Cliff Cottage) 01646 636242 www.windmillpark.co.uk
The Old School, Marloes www.theoldschoolmarloes.co.uk
Gateholm Dale https://www.homeaway.co.uk/p8123750
ST ISHMAELS:
Monk Haven Manor B&B, St. Ishmaels, Haverfordwest SA62 3TH.
Website www.monkhaven.co.uk. Enquiries to enquiries@monkhaven.co.uk   Tel. No. 01646 636216
Skerryback Farm 01646 636598
Skerryback Farm Cottages (s/c) www.skerrybackfarmcottages.com
Bicton Farm 01646 636215
HERBRANDSTON:
Fields Lodge https://www.fieldslodge.co.uk/
Upper Neeston Lodges (Bunkhouse Accommodation) 01646 636750 www.upperneeston.co.uk
LITTLE HAVEN :
Glen View self catering 01646 636274 www.glenview-littlehaven.co.uk
To book contact steve@freedivers.co.uk or phone 07940998915